PCI Express Frame Grabber FG-36 PCIe
PCIe Video Digitizerfor PCs with PCI Express-Bus
HaSoTec PCI Express Frame Grabber FG-36
Frame Grabber for real-time applications
Modern operating systems have enhanced multimedia support for audio and video streams. Microsoft Video-for-Windows or the Direct- Show- Interface, as well as Video for Linux are such examples. The advantage of such streams is buffering of some images, before they are shown. This can fill a short term performance drop-out in the whole data stream. The disadvantage is the delay e.g. between the camera and the display that often exceeds a whole second. Of course HaSoTec Frame Grabbers support streams with an additional Direct- Show- WDM- driver with Video- for- Windows interface. At the same time there is the possibility for real-time support with a minimum delay time. Before a video frame is sent completely one can analyze the first parts of the image. This HaSoTec API is independent to the operating system and available even for Dos, Linux, OS/2, Windows CE, Windows 3.x. HaSoTec PCI Express Frame Grabber FG-36 contains the complete functionality of FG-34 and additional features. A 26-pole connector, 1xS-Video and 1x compisite video are accesible through the bracket of the cards slot. Additional inputs up to six composite or three S-video sources are connectable.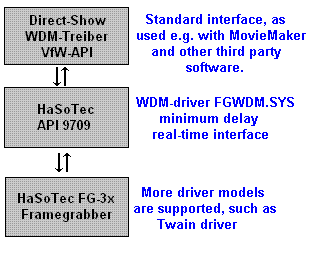 Frame Grabber with real-time image processing capabilities
It is correct, analoge video data at its full resolution and color can be transferred already through the conventional PCI bus. For real-time applications this captures a big part of the PCI Bus bandwidth. PCI Express (PCIe) solutions need less than 50% of the PCIe bandwidth, the transfer takes at least half the time. The future of PCI-Express-Slots will bring chipsets, that have for each seperate slot independent bus capacity.